"Violence is not our way" was a youth exchange of Erasmus+ gathering around 50 young people between 13 and 18 years old from 6 different countries. Every young people was doing activities and workshops to the others to tackle the issue of violence.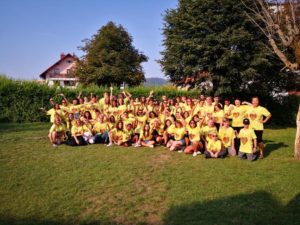 A multicultural French team 
Youth ID was very proud of its French team sent in Croatia because it was a good representation of the diversity of our country. Indeed more than 4 different cultures was included in our delegation, many of our participants having immigrants backgrounds (from Nigeria, Morroco, Algeria, Turkey, Finland, Netherlands, …). One of our participant still do not have the French nationality but thanks to Europe it was not an issue to involve him and a good way to speak about some violence against immigrants and refugees during our project.
The preparation of our workshops
Before leading the activities and workshops in Croatia, French participants had to think about what they wanted to do to others young participants. We did different meetings to discuss all together and decide what we wanted to do. It was also a good way for team-building and create safe space. It was very important because of the diversity of our group. And finally the French team decided to work on inequalities because it was for them one roots of violence in our society.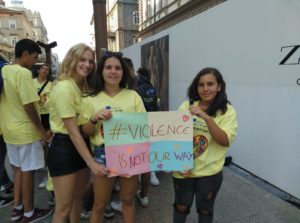 Friendships beyond borders
After one extra day in Zagreb to discover Croatian capital and visit the museum of illusion, the French team met all the other participants. And directly they mix all together. Event if they were a little shy at the beginning, particularly because of their level of English, they manage quickly to create friendships. It was very interesting for them to discover that there are many ways to communicate and even if they are doing mistakes in English the most important things is to speak and try 🙂
Fighting against violence
Thanks to the great group and motivation from all the other delegations, the French team learnt a lot about violence. They discovered concrete tools like Theator of oppressed or a good practice of Peer mediation in highschool. They also learnt how to debate and basis of non violent communication. They developed their self confidence and was not afraid of raising their voices in a flashmob in public space to pledge for non violence.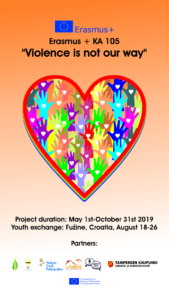 Keep on the good job
It was a life changing experience for the whole French team. For some of them it was the first time they went out of their country. They came back motivated to have positive impact on their education and on their life. Now the French team is still meeting and thinking about concrete way to fight against violence in their daily life. For example they began some social media campaign to raise awareness about different kind of violence.